Sadya Adem
25 Jahre, Bad Lobenstein
It's good to have a job and my husband has also completed his training. He can continue working for the company and my son finally has a place in kindergarten. I have now arrived at home.
Interview with Sadya Adem
The rural area with its advantages and disadvantages
When Sadya Adem and her husband moved to the Saale-Orla district, the young couple did not have it easy. They were housed in a shelter with a few other refugees in Frössen. Frössen is a small neighboring village to Bad Lobenstein with no stores and hardly any local transport links. Soon the couple felt isolated and when Mrs. Adem had her first child, everyday life was hardly manageable. With the help of the social welfare office, the family was able to move to Bad Lobenstein.
Sadya Adem came to Germany with her husband in 2015 and shortly thereafter met Katrin Gersdorf through her volunteer work. This encounter was to determine her future working path. In the first few years, Mrs. Adem and Mrs. Gersdorf stayed connected through their volunteer work at the deacon store "Geben und Nehmen". They cooked and baked together there, and Ms. Adem also enjoyed helping out at the encounter festivals in Bad Lobenstein.
With the start of the Jobmanager SOK, things moved forward for Sadya Adem
In 2018, the LAT project Jobmanager SOK started, with Katrin Gersdorf as project manager. She placed Sadya Adem in a fish restaurant, where she worked in the kitchen on a 400€ basis. Although the young Eritrean had already worked in a small restaurant in Sudan, German cuisine was a new experience for her. But the typical gastronomy working hours became more and more challenging for the young mother. And so, after more than a year, the employment relationship ended. The job managers then placed Sadya Adem as a substitute in an outdoor living group of the Diakoniestiftung Weimar Bad Lobenstein for impaired people.
"The first day was very hard, but after that it was okay. I have very nice colleagues there. They are all so friendly to me and the boss is also very nice," says the 25-year-old.
The colleagues and the supervisor were so enthusiastic about Ms. Adem that they gave her a permanent position. Since the fall of 2020, Ms. Adem has been permanently employed at the foundation and mainly takes care of the cleaning work. But the young woman also participates in the daily life of the residents*. "We often cook together and every Friday we bake a cake together. For my birthday we had a party and they dressed up especially for it," she recalls with a laugh.
She is very grateful to the job managers for their commitment: "The office is open every day and everyone finds help here. It's great that it's so easy with the job managers. You want a job and Ms. Gersdorf finds you one."
Currently, Sadya Adem is not working. She is expecting her second child and is not allowed to work. But already she is looking forward to returning to her job as soon as she can. "It's good to have a job and also my husband has finished his education. He can continue working at the company and my son also finally has a kindergarten place now. I have arrived at home now."
(September 2021)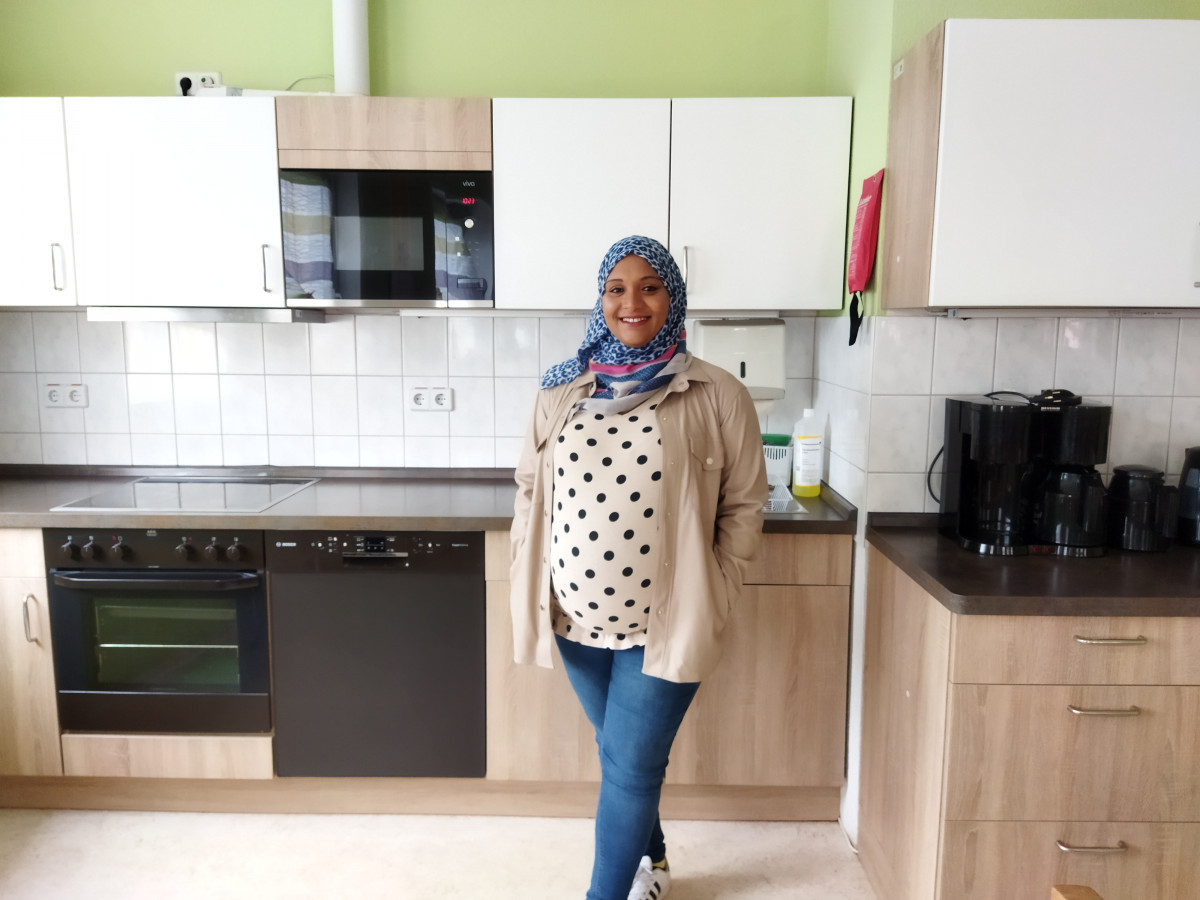 Interview with the job managers SOK
Employee valued despite language barrier
"Sadya Adem was one of the first group of Eritreans to come to us. From the beginning, all she wanted was to work and be among people to learn the language," recalls Katrin Gersdorf, project manager at Jobmanagers SOK.
She offered Ms. Adem to work one or two days a week in the kitchen area of the "Give and Take" deacon store. Due to the language barrier, instructions were given in such a way thatMrs. Adem could watch and then replicate everything. "She looked over my shoulder for a week or two, and by then it was working beautifully," says Ms. Gersdorf.
Before Sadya Adem started working in the fish restaurant, she attended a language course and managed the A2 level with a lot of effort. From then on, communication already worked better.
"One of her greatest strengths is that she has no fear of trying new things," says Ralf Thomala, an employee in the LAT project. And so he was not surprised when Ms. Adem's supervisor called the Diakoniestiftung Weimar Bad Lobenstein after just two weeks because he really wanted her to join his team permanently.
"She simply sees where the work needs to be done. She also has an open and communicative nature, even without perfect language skills," Katrin Gersdorf reports. "This works in a very special way, especially with people with disabilities, because they sometimes express themselves differently than through language."
Connection to the job managers remains
Even after the successful placement, Sadya Adem is still often in the job managers' office, which is located in the same building as the Diakonieladen and the ThINKA office. Whether it's to get help with official forms or to volunteer at Diakonie events. "We have everything under one roof, so we can help people in an uncomplicated and short way," says Ms. Gersdorf.
The job managers hope that more employers will give people with migration experience a chance and that they will not be discouraged if things do not work out with a participant. "We see a lot of tolerance and great experiences with employers who were willing to make this extra effort, and that equal treatment is also very important there. But then the workforce has to go along with it, which unfortunately is not the case everywhere," reports Ralf Thomala.
For Sadya, they hope that her child will be born healthy and that the start of her job will go as smoothly as it did at the beginning.
"I hope that peace returns to Sudan and Eritrea so that Sadya Adem can (eventually) return with her family, if they have that wish. In any case, she has learned a lot here that she can use there and here to create a good life for herself and her family," Katrin Gersdorf concluded.
(September 2021)