Awet Fsahaye
29 Jahre, Bad Lobenstein
If someone really wants to do an apprenticeship, they can do it. But it is not an easy way, you need a lot of time and patience and you have to learn a lot.
Interview with Awet Fsahaye
Arriving in Bad Lobenstein
Awet Fsahaye, a former participant in the "Jobmanager SOK" project, and Katrin Gersdorf, a project employee, have known each other since he arrived in Bad Lobenstein. That was in 2015, when the project did not yet exist, but Mr. Fsahaye already received support from Ms. Gersdorf and other members of the local church community. They helped him and other people from Eritrea learn German even before they could go to language classes. "In the beginning, it was very difficult to arrive in Europe and Germany because we didn't know the language and the country, who are good people, who are bad people and who is open to us," Awet Fsahaye recalls of his first time in Germany.
In her voluntary work, Mrs. Gersdorf also arranged an internship for Mr. Fsahaye at the carpentry company Drechsler GmbH in Saalburg-Ebersdorf near Bad Lobenstein. He liked the work so much and the boss was also pleased with him that he did more internships there until he was finally able to start an apprenticeship at the company.
Carpentry runs in the family
He had already gained experience as a carpenter in his country of origin. His whole family has a carpentry shop and he always helped out there. After all, that was one of the reasons why he successfully passed his journeyman's examination. He is very enthusiastic about his work: "I grew up with wood. I like the smell and working with wood. But there are big differences between carpenters in my home country and here. Besides the language, different wood grows in Europe and the temperatures are different on the construction sites outside."
The practical parts of the training didn't cause him any problems, but the theoretical parts were challenging. So he talks about how he often had to study, calculate and practice drawing after work. But he got along well with most of his classmates and teachers at the vocational school and at the boarding school. He would like to say to other refugees: "If someone really wants to do an apprenticeship, they can do it. But it's not an easy path, you need a lot of time and patience, and you have to learn a lot."
Support is important
However, Awet Fsahaye is also sure that he would not have made it without Ms. Gersdorf and the LAT project. "Mrs. Gersdorf is very nice. Whenever I have a problem I can ask her. She always helps." This was true for finding an internship as well as for the support during the training. Be it organizing tutoring, or driving to vocational school, as mobility in the region is quite limited for people without a car.
Asked what his greatest wish is, he replies, "I would like to see my family again."
(September 2021)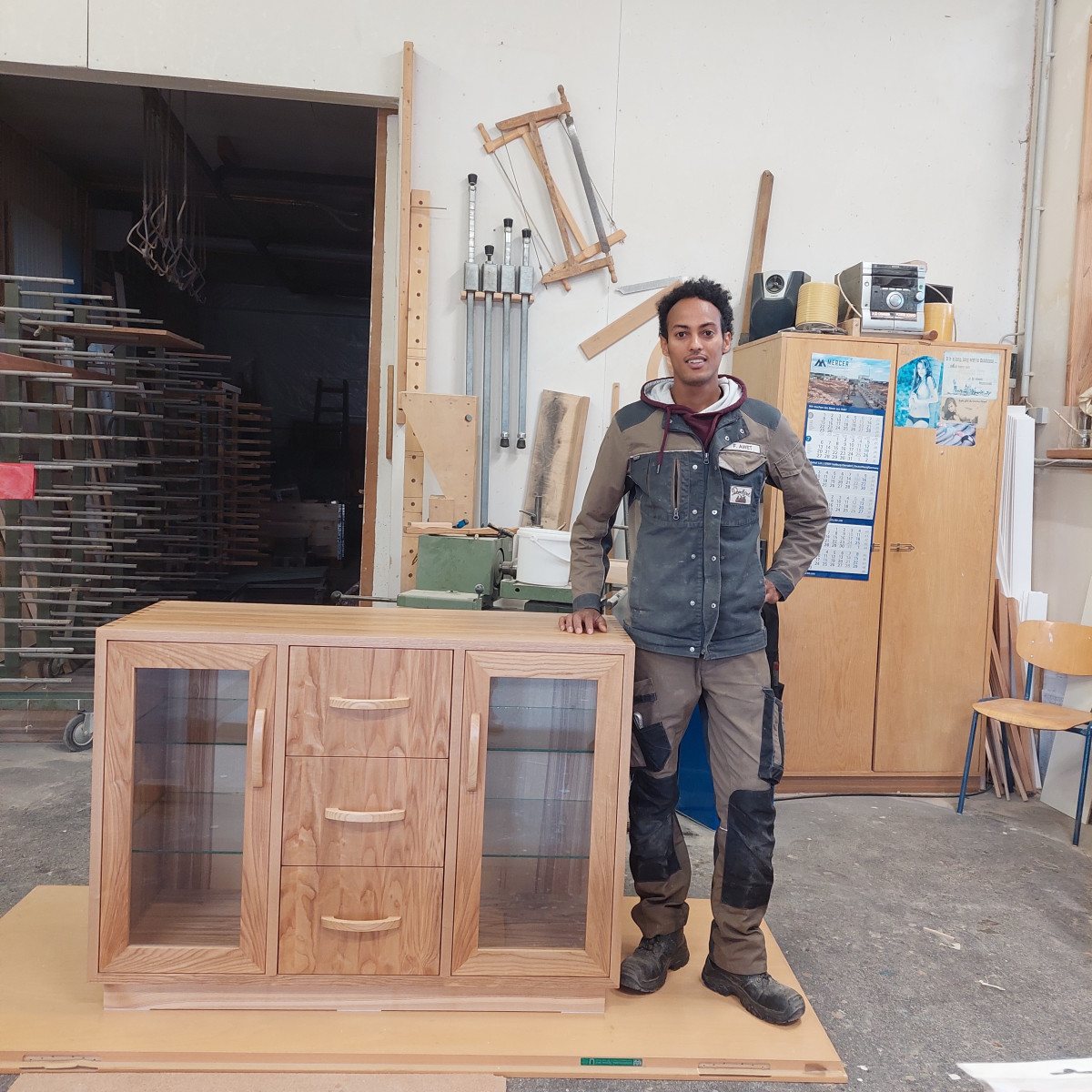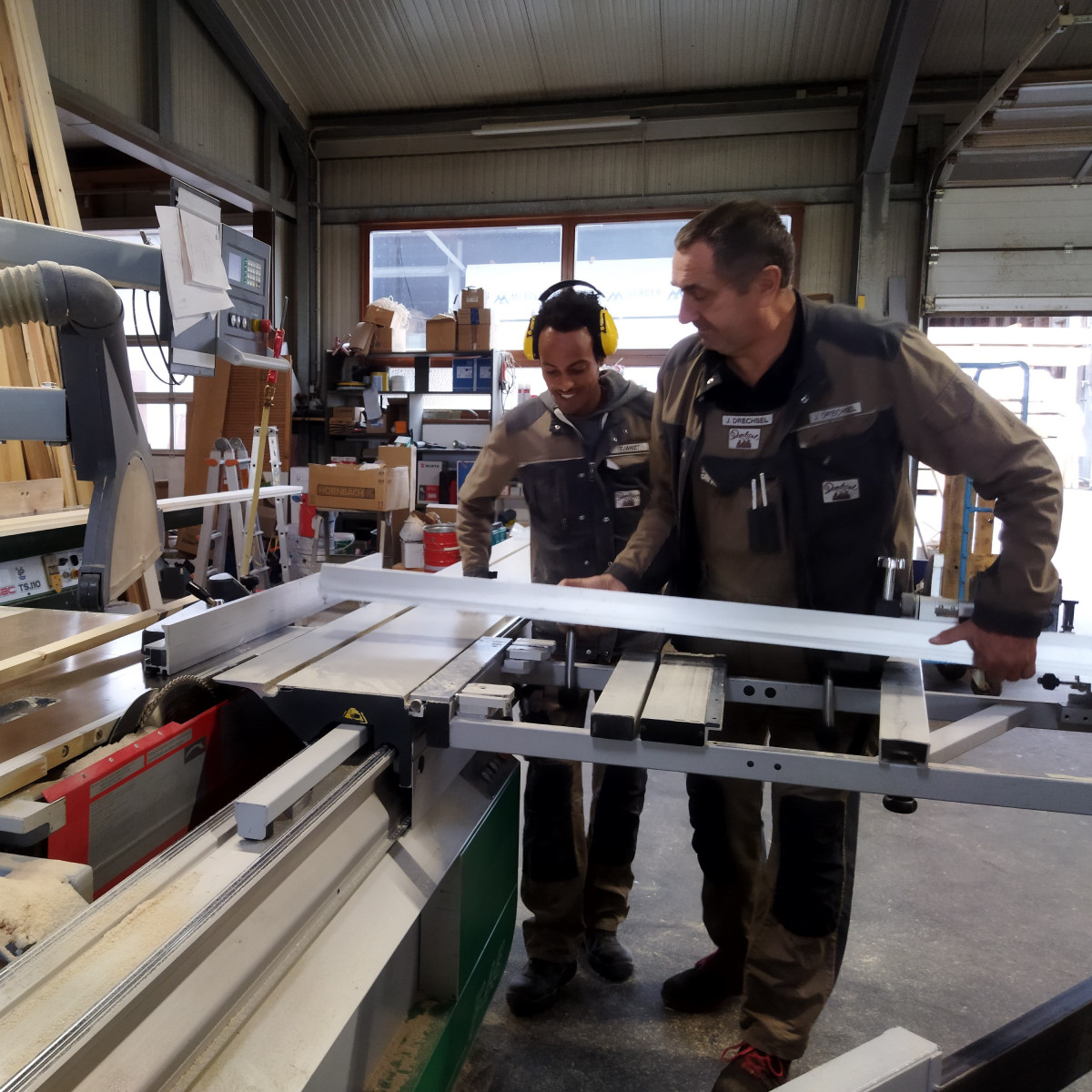 Talk with the job managers SOK
Volunteer networks are very important
The first contact between Katrin Gersdorf and Awet Fsahaye took place in 2015 at the church in Bad Lobenstein. "There was a group of young Eritrean people sitting there, and I just approached them," Ms. Gersdorf recalls. She then helped Mr. Fsahaye and others on a voluntary basis (at that time, the LAT project Jobmanager SOK did not yet exist) with language learning, finding housing and generally with daily life. Since Awet Fsahaye had already helped out as a carpenter in Eritrea, Katrin Gersdorf asked a well-known carpenter for him for an internship. Finally, the joinery Drechsler GmbH in Saalburg Ebersdorf near Bad Lobenstein agreed.
After longer internship and language course phases, Mr. Fsahaye was finally able to start his apprenticeship at the joinery when the project began. Ms. Gersdorf, now as project manager of the LAT project, was able to clarify all legal and formal framework conditions so that the training could start without any problems. Vocational school also got off to a good start, although support was needed in the math subjects. "The vocational school said that Mr. Fsahaye had no problems linguistically, only in math and physics he needed help. That's why I organized volunteer tutoring for him in addition to the help he received during his training. That's the nice thing here, there's a large volunteer network that's willing to help," Katrin Gersdorf reports.
Mobility as a major problem
One big problem, however, is mobility in rural areas. "Some of the good jobs are in the countryside, in the villages around Bad Lobenstein, which are difficult to reach without a vehicle. Here, too, we had to fall back on the volunteer network in the meantime so that the participants could be driven to vocational school or to their jobs in the winter. Actually, we would need a driving service for this," Ms. Gersdorf continues.
Awet Fsahaye now has a driver's license and his own car. He has also settled in well in other ways. "He even has his own garden where he grows fruit, vegetables and flowers," Ms. Gersdorf laughs. "I had the greatest joy when he came over and showed me his journeyman's certificate." She wishes he can finally see his family again.
(September 2021)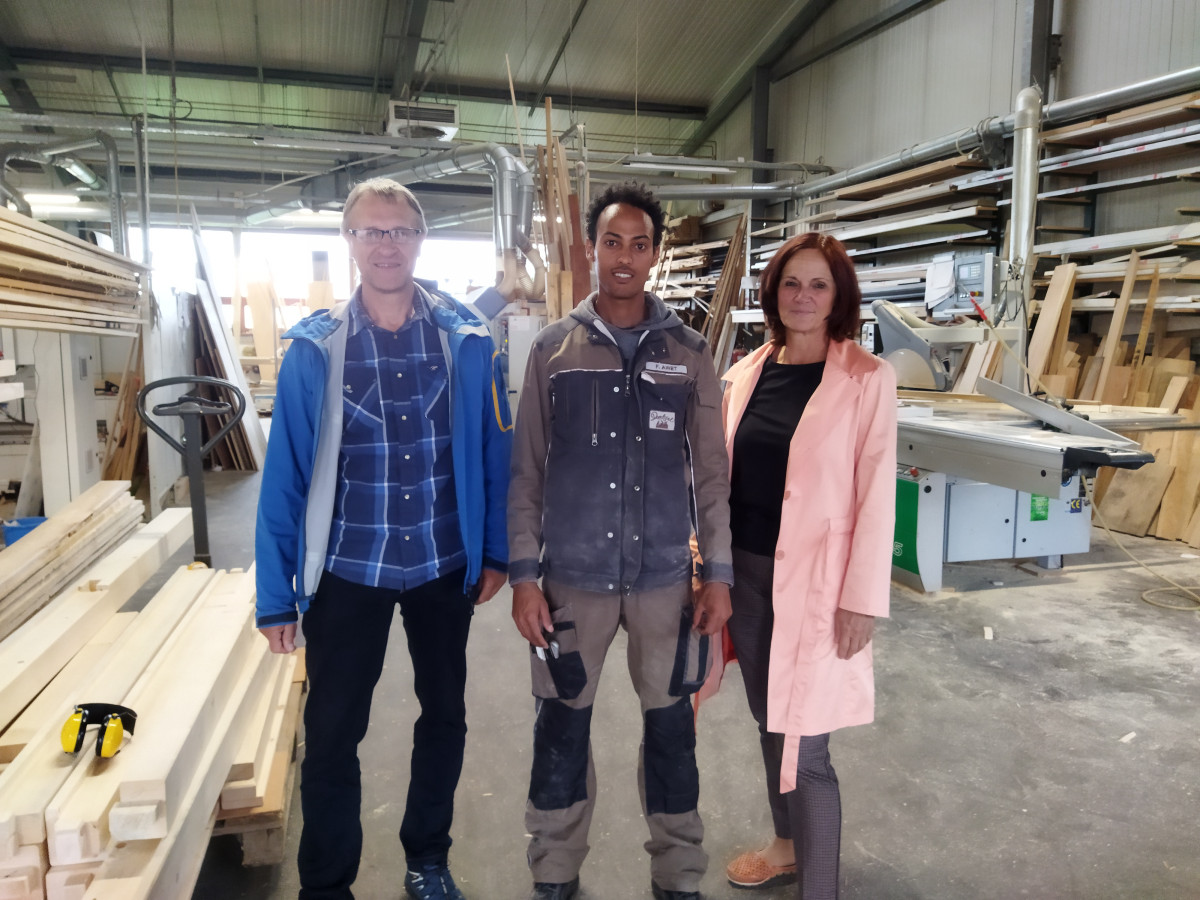 This text was translated automatically.