Malyun Ahmed Dhore
35 Jahre, Gera
In Somalia, I had no opportunity to learn a profession and had no perspective for my future there. Now, with the work in nursing, I have found hope for my future life again.
Interview with Malyun Ahmed Dhore
Nursing as a professional perspective
Ms. Malyun Ahmed Dhore has been living in Gera for about 3 years. Prior to her participation in the LAT project, she completed a German course and passed with B1. She became aware of the project "Wege in die Pflege" through the integration officer of the city Mrs. Landmann. "I firmly believe that people in need of care need good help when they are old or sick. I would like to contribute to that. I took care of my grandmother in Somalia. I can put that experience into practice today."
Participating in the "Pathways to Care" course at IBS in Erfurt was a very important step into professional life for Ms. Ahmed Dhore. What she learned here helps her today in her practical work in nursing. "I learned a lot of technical words in the course and improved my German. And I always had great support and guidance from the project staff." The participants in the course are usually very diverse. They come from different countries, have different learning experiences and have different religious beliefs. Nevertheless, it was a nice togetherness and everyone supported each other in their learning. "I come from East Africa and wear a headscarf. I sometimes encounter people in everyday life who react negatively to it. In the course at IBS, I was always very accepted and appreciated by everyone. I am very grateful for that."
Practical experience alongside course participation
During the course, Ms. Ahmed Dhore was already volunteering at the AWO Psychosocial Center for 4-5 hours every Saturday. In the beginning it was a challenge to deal with the illnesses of the people. Some of the residents in the care center have dementia or other mental illnesses. It took time to build trust. "I have always received a lot of support from the staff here at the care center. Everyone was very nice right from the start and helped me with their experience to familiarize myself with my tasks. In Somalia, I had no opportunity to learn a trade and had no perspective for my future there. Now I have found hope for my future life again by working in nursing."
The tasks are varied. They include assistance with washing and showering, handing meals, measuring blood pressure and sugar, getting out of bed, using a wheelchair or brushing teeth. Ms. Ahmed Dhore sees documenting care records on the computer as the biggest challenge. "This is very new for me. I've learned a lot there, but I still need to improve here."
Occupational and social participation needs securities
For Ms. Ahmed Dhore, the start in Thuringia was not easy. In the meantime, she has received a residence permit through the Hardship Commission. There was a lot of support here from Ms. Landmann, from the facility manager Mr. Weise and from the employees of the Gera migration counseling center of the Diakonie. "I was very afraid in between that I would be taken back to Italy. Now I am very happy that I got my stay." Now she is still waiting for her work permit to be issued so she can work as a salaried nursing assistant at the AWO psychosocial center. [Editor's note: Normally, the foreigners authority can give the work permit during the clarification by hardship commission. Why this did not happen here is still being clarified]. Ms. Ahmed Dhore feels very comfortable in Gera and would like to continue living here. "I know many who have moved away from Thuringia after three years, but I don't want to move. Many people here in the city have helped me a lot and I would like to help people arrive here in the future, too." She advises new people in Thuringia to quickly seek opportunities to make social contacts. "I also recommend everyone to learn a nursing profession because it's a very nice job and you get a lot of good experiences."
(January 2023)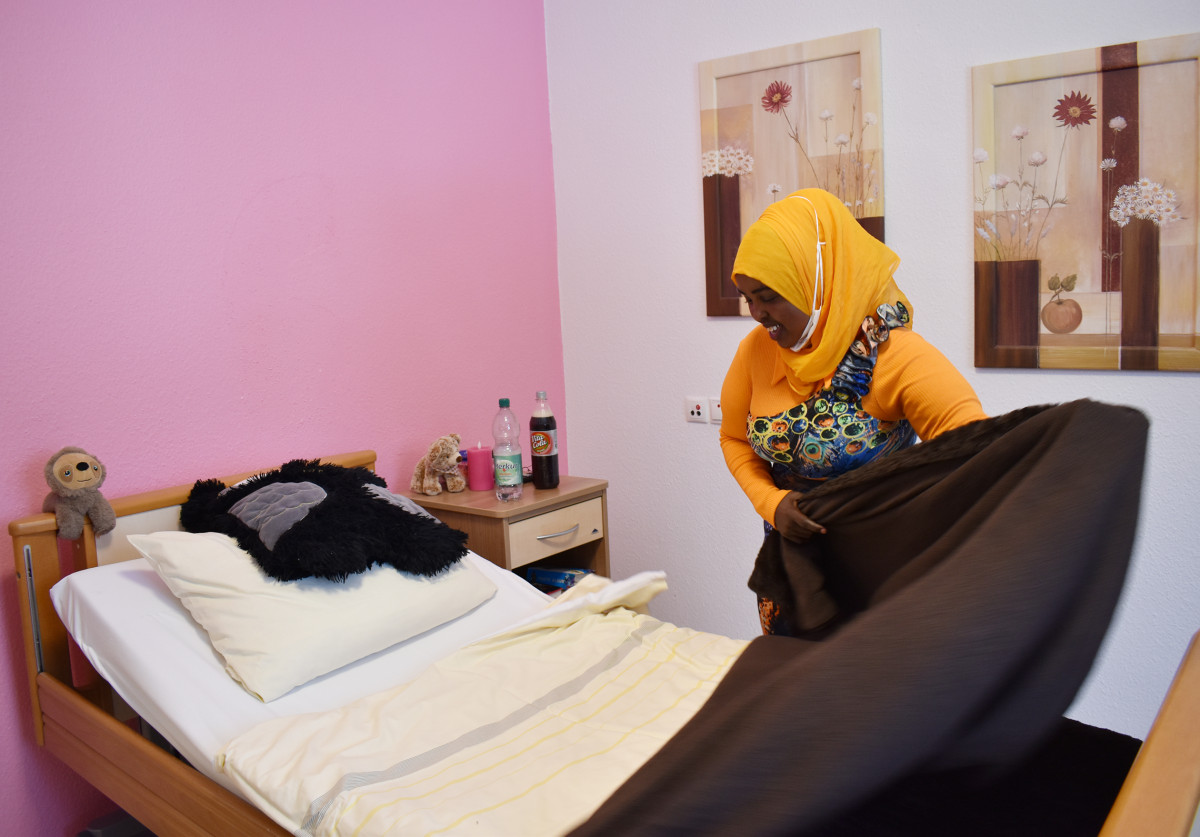 Interview with the LAT project "Pathways to Care
A bumpy start
The first contact between the project "Wege in die Pflege" and Malyun Ahmed Dhore came about through the integration officer of the city of Gera, Nicole Landmann. Ms. Ahmed Dhore really wanted to find a job where she could help people and then decided on nursing. Fortunately, Ms. Landmann knew about the LAT project Wege in die Pflege (WiP) and got in touch with the project staff* in Erfurt.
"As a project, we actually had direct contact with Ms. Ahmed Dhore only shortly before the course started; the preliminary arrangements all went through Ms. Landmann, who was very committed to her," says Stefan Tinkhauser, a social pedagogue at Wege in die Pflege.
The months leading up to the start of the course were very bumpy for everyone involved, as Ms. Ahmed Dhore was still waiting for approval from the foreigners authority to be able to take part in the course. The foreigners authority, for its part, did not want to issue the permit until she had submitted her application to the Thuringian Hardship Commission. In the end, however, there was enough time so that Ms. Ahmed Dhore could start the course at the beginning of March 2022.
In addition to the WiP course, which takes place daily from 08:30 to 15:15, Ms. Ahmed Dhore also volunteered at the AWO psychosocial center in Gera on Saturdays. When she applied for the volunteer position, the WiP project supported her. "Then, of course, Ms. Ahmed Dhore had little free time. In addition, she commuted daily by train between Gera and Erfurt during the week. She showed great ambition and stamina," says Stefan Tinkhauser.
Malyun Ahmed Dhore has fully exploited her potential
In the course, Ms. Ahmed Dhore then impressed with her reliability and independence. "Even if she was sick or could only come to the course later because of important appointments, she always directly requested the info from the course, what was discussed and where she could already read up on something. That's where the passion for learning and the nursing profession itself was visible right from the start," recalls the social pedagogue.
Ms. Ahmed Dhore then also completed the 5-week internship at the psychosocial center in Gera. "We already had very high expectations of her as a person. At the first sight visit in the internship, there were still initial difficulties. She only showed her full potential a few weeks later, and then yes, she also passed the practical exam with 1.0. One must not forget that the residents in a psychosocial center have different challenges than those in a retirement home."
Ms. Ahmed Dhore completed the course with flying colors in December 2022.
The final steps before starting work
The facility manager of the psychosocial center in Gera also wanted to hire Ms. Ahmed Dhore directly with her degree, but unfortunately the hardship application had not yet been decided and she did not yet have a work permit. "We are very happy for her that the application has now been decided positively." (Editor's note: a week before this interview).
For Stefan Tinkhauser, the facilities also play a significant role in such successes: "For many employers, the language level is a decisive criterion. But that is only a temporary problem. And just because someone doesn't yet speak perfect German doesn't mean that person won't do the job just as well."
For Ms. Ahmed Dhore, Stefan Tinkhauser hopes that she will soon be able to sign her employment contract and finally lead the self-determined life that she desires.
(January 2023)
Interview with the AWO Psychosocial Center in Gera
The challenging work at the psychosocial center
Volunteering at the psychosocial center in Gera was the ideal introduction to the working world for Malyun Ahmed Dhore. She was able to gradually familiarize herself with everyday life and how to deal with the residents*. "Getting to know the clientele is very important for us, because we are not a regular retirement home, but a facility for mentally ill people in need of care. You have to cope with that, too, but Ms. Ahmed Dhore has managed it really well," says Michael Weise, the facility manager.
Simone Richter, a nursing specialist, is also very pleased with the way Ms. Ahmed Dhore has familiarized herself with the residents and their habits: "We have a resident who is very listless and difficult to get out of bed due to her illness. However, Malyun managed this well at her sight hour. In the end, the two of them even did sports together. I stood next to them and was amazed at first. That is what Malyun has worked out for herself: Trust and a bond with the residents. That's very central in our work."
At the facility in Gera, there were also nasty comments by residents* with prejudices. But the facility put a stop to that right away. "As a team and as a facility, we say very clearly that we do not tolerate this. We need to deal with this in a decent way. That is a matter of course for us as AWO and also as people," affirms Michael Weise.
New experiences also for the facility
Ms. Ahmed Dhore has mastered her internship at the psychosocial center well. Thanks to her open and outgoing nature, she quickly fit into the team, reports Simone Richter, and the language barriers were also less of a problem than she had initially feared. "Malyun always made herself directly known when she didn't understand something. As a result, there were hardly any problems," she says.
At the psychosocial center, Ms. Ahmed Dhore is not the first colleague with migration experience. However, with her, the center has witnessed for the first time how challenging the bureaucratic processes can be. "For Ms. Ahmed Dhore, we now also use our AWO integration service to support us. You can see the hurdles there very clearly, especially when it comes to a work permit. That is incredibly time-consuming. And we are currently holding the position open for Ms. Ahmed Dhore as well," reports Michael Weise.
Despite all the challenges, however, Mr. Weise would go this route again: "There are hardly any people left who want to work in care, and we've had really good experiences with Ms. Ahmed Dhore."
Once the work permit is issued, Malyun Ahmed Dhore can finally get started. Then she will have to get used to the daily routine as a nursing assistant, because not only new tasks await her, but also the challenge of shift work and weekend work. However, the facility is confident that she will master this as well.
(January 2023)
This text was translated automatically.